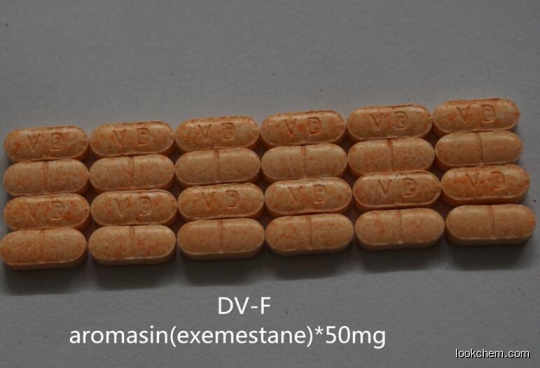 Keywords
Exemestane
Exemestane Tablet
Exemestane 50mg
Quick Details
ProName: Exemestane Tablet 50mg/pill Aromasin O...
CasNo: 107868-30-4
Molecular Formula: C20H24O2
Appearance: pills
Application: Anti-estrogen
DeliveryTime: within a week
PackAge: in bottle
Port: shenzhen hongkong
ProductionCapacity: Metric Ton/Day
Purity: 50mg/pill
Storage: Store in cool and dry area and keep aw...
Transportation: EUB,EMS,HKEMS,DHL,TNT,Fedex,UPS
LimitNum: 0 Metric Ton
Superiority
Rich experience.
We have specialized in this field for 7 years. Our steroids and hormones have been exported to overseas, like Europe, Africa, Asia, America and other countries. And we have got very good feedback from our customers, and established long friendly relations of cooperation.
High quality products with the best price
1.All powders are factory directly supplying and have much in stock.
2.Before each powder send out, it all will be tested again by our technician, if the quality good, then it can be sent out to customers.
Professtional packing and fast delivery
1.Professtional team for packing, different country and quantity order have different packing way, sure package the products the best to your order.
2.We have mass stock, so that we can guarantee all the package can be sent out as soon as possible after you pay and should arrive your hands 3-7 days safely by DHL,TNT,FEDEX,HKEMS,UPS,etc.
Best pre-sell and after-sell service.
1.Once the package send out, tracking number and packing picture should email you later
2.For raw powder buyer, we also can help you cook steroid powder into injection and supply you all the things to make ready use injection, such as 10ml vials,0.22um-0.45um whatman filter,crimper machine and filter pump.
Customer feedback
Hi , package delivery and packed well , very satisfed with your service,wish cooperation with you again
—— Jason Davis
I am very very appreciate with the product quality , high purity and good appearance. wish you good business
—— Larry Owe
although some problems happens on the purchase , you show me a good attitude to resolve it and I got the product , good job
—— Terry Neal
Order Process :
| | |
| --- | --- |
| 1. | We talk with the order and total cost |
| 2. | Client sends money and supply ship infomation |
| 3. | We send package and supply track number |
| 4. | Package delivery and after sold service |
Details
Exemestane Tablet Basic Information
| | | | |
| --- | --- | --- | --- |
| Product Name: | Exemestane Tablet | Brand Name: | Aromasin |
| Specification: | 50mg | Function: | Anti-estrogen |
| Usage: | Cutting Bodybuilding Cycle | Category: | Steroid |
Exemestane 50mg aromasin pills Description
1. In a therapeutic setting, by blocking the aromatase enzyme, Aromasin actively prohibits the cancer from feeding off the hormone necessary to its survival. It has been proven highly effective for this purpose, but only after the use of the Selective Estrogen Receptor Modulator has failed.
2. While effective, it is also not as commonly used as Arimidex for this purpose as Arimidex largely maintains itself as the primary AI in breast cancer treatment not only among post-menopausal women but in a host of breast cancer scenarios.
3. Then we have Aromasin as an anti-estrogen for the anabolic steroid user. By understanding its functions and traits you should already understand the effects of Aromasin in this regard. Excess estrogen levels can promote gynecomastia and water retention and possibly high blood pressure as a secondary issue.
4. However, keep in mind such effects are not possible with all anabolic steroids, primarily it must carry an estrogenic nature, it must be able to aromatize to lead to such effects or carry a progesterone nature. Testosterone is the primary aromatizing steroid, but testosterone derived steroids like dianabol can also promote strong estrogenic action. Then we have the equipose.
5. hormone, and while it only aromatizes at 50% the rate of testosterone, this is still enough to cause an estrogen buildup in some. Finally, we're left with 19-nortestosterone (19-nor) anabolic steroids.
6. 19-nor compounds will primarily include all forms of Nandrolone and trenbolone. As discussed Nandrolone aromatizes at 20% the rate of testosterone, but it also carries a very strong progestin nature. This can promote a fair amount of estrogenic activity in many men.
7. As for Trenbolone, it does not aromatize at all, but its moderately strong progestin nature can make gynecomastia a possibility depending on the individual's sensitivity. When use is coupled with an aromatizing steroid, this will greatly enhance the odds of gynecomastia. Regardless of the steroid in question, Aromasin can offer protection from the estrogenic effects.
8. An important note: Aromasin will have no affect on dihydrotestosterone (DHT) derived anabolic steroids as they do not convert to estrogen. Such steroids cannot lead to gynecomastia or excess water retention; it is impossible.
9. The exception would be oxymetholone, while a DHT derivative, it carries with it a strong estrogenic nature. However, while estrogenic action is present, the hormone does not aromatize, meaning there is no aromatization for Aromasin to inhibit. The use of an AI will not affect the estrogenicity of Anadrol.
10. For protection from such a steroid, the individual will need to inhibit activation of the estrogenic mechanism, and this will make SERM's the first line of defense.
The final effects of Aromasin surround its use in a PCT plan. Due to the use of anabolic steroids natural testosterone production is suppressed.
11. The rate of suppression will be dependent on the steroids being used, and to a degree, the total doses, but natural production will be suppressed nonetheless. Most male steroid users are advised to include exogenous testosterone in all their cycles in order to ensure they have enough testosterone to meet their body's needs.
12. This won't be an issue for most men as testosterone is normally a base steroid in a cycle. If it is not used as a base steroid the individual should ensure he administers the minimal amount necessary to combat suppression.
13. Once the cycle of steroids is over, while exogenous testosterone protected the individual while on cycle, at the end of the cycle natural production is still suppressed. Natural production will begin again once all the exogenous hormones have cleared the system, but returning to your prior levels pre-cycle will take a lot of time. In fact, it could potentially take up to a year assuming no other anabolic steroids were used during this period.
14. By implementing a PCT plan, we stimulate natural testosterone production, cut down on the total recovery time and ensure we have enough testosterone for proper bodily functions. This does not bring our total levels back to their previous naturally high state, but it speeds up the recovery and ensures we do not spend a lot of time in a low testosterone state.
15. Not only is a low testosterone condition extremely unhealthy and bothersome due to a host of possible symptoms, it can see the lean tissue gained on cycle destroyed. During a phase of low testosterone, it is easy for cortisol to become dominant in the body, which will destroy muscle tissue and promote fat gain.
16. Due to the need for a strong PCT and Aromasin carrying extremely strong natural testosterone stimulating properties, this makes it very appealing for this purpose. Due to the slight androgenic nature and moderately decent promotion of IGF-1 this makes it even more appealing.
17. However, we must consider the primary purpose of Aromasin, which is as an anti-estrogen. High levels of estrogen can be problematic, but the hormone is still necessary to our body's health. It is important in maintaining a proper immune system, as well as in the maintenance of healthy cholesterol levels.
18. Then consider the PCT, which in part is primarily designed to stimulate natural testosterone production, but the overall primary point is to normalize the body. We cannot normalize with low estrogen levels. For a proper PCT that not only stimulates testosterone production but promotes overall normalization, SERM's should always be your first choice.